Maximize Your Impact by Utilizing Graphic Recording for Your Events and Meetings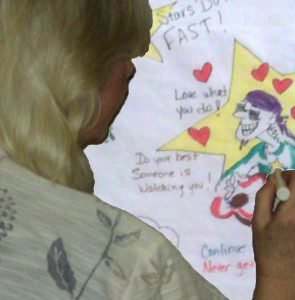 Graphic recording is when an artist assimilates the spoken word and translates it with images, metaphors, keywords and an energetic flow that captivates your audience and at the same time, aids in retention and understanding. Later, the client can utilize the poster recording as an aid in recall. In otherwords, it's visual note taking.
Cartoons and illustrations communicate instantly. Bypassing the mind, drawings reflect the energy of the message and are easily understood and recalled.
Welcome to my world … May I illustrate yours?
Shannon attended our annual conference and from the opening sentence began to give impression in artistic form of what was being presented in the various sessions. It was absolutely the most incredible experience of my life in church! I highly recommend this gift for your event." - Dr. Earl Johnson

"I've used your visuals at three different events following that meeting – presenting to our board, some other folks at Honda and to our own staff. They are very effective and useful visuals. We may need you again."
Michael Soguero, Director
Professional Development